In the News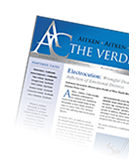 Have you read our latest copy of The Verdict? This full color pamphlet reveals the diligence our firm spends to achieve every accomplishment and prepare for trial. Click here to view our latest copy. It may take a while to download this PDF file (5 MB).
View The Verdict
In The Community
The Lawyers at Aitken * Aitken * Cohn donate hundreds of hours of work on pro bono and charitable activities. Learn more about our work in the community.
404 - Page Not Found: /articles/contractor-liability.html
The page you are looking for may have been moved or no longer exists. Please use the navigation above or the site map.