Aitken * Aitken * Cohn Part of Largest Automobile Class Action Lawsuit Set
As National liaison counsel and co-counsel for suit on behalf of secondary auto dealers, Wylie Aitken, founding partner of Aitken * Aitken * Cohn, and the firm are part of a team of 30 law firms and 80 plus lawyers that represented millions of Toyota vehicle owners in the largest automobile class action lawsuit settlement in U.S. history.
More Info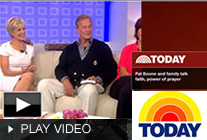 Video: The Boone family—singer Pat Boone and his daughters Lindy Boone Michaelis and Debby Boone, also a singer—share about going through a family tragedy when Lindy's son Ryan fell from the roof of his condo. They also discuss the power of prayer and Lindy's new book about the ordeal, "Heaven Hears".
WHAT'S NEW AT AITKEN LAW
The Aitken family is on a hot streak being recognized for their extensive involvement in the community. In the past year alone, they have been named Chapman University's 2014 Citizen of the Year as well as the Constitutional Rights Foundation's … read more

---

Los Angeles Laker's former head coach, Pat Riley, who coined the term "three-peat" would say that a "three-peat," whether referencing sports or in life, is close to impossible to achieve. However, at Aitken Aitken Cohn, our attorneys like to defy the … read more

---